Ready to make your move?
Whether you are buying your first home or your third home, it's an experience like no other. We make the process less stressful and easier to understand while offering a variety of home loan options appealing to a wide range of buyers. From first timers with little or no down payment to dream-home buyers, we have a loan to fit you.
Mortgage home loan specials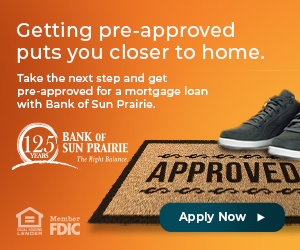 Homebuying mortgage loan options
Conventional Mortgage Home Loans
Fixed-rate mortgages offer an interest rate that remains the same through the term of the loan.
An adjustable-rate mortgage (ARM) offers interest rates that may go up or down and may start out lower than a fixed-rate mortgage. (An ARM's interest rate changes with the market, and monthly payments can change when that happens.)
Low or No Down Payment Loans
FHA loans offer a low-down-payment for those who do not have a large down payment and allows for bruised credit.
A USDA loan offers benefits for those who wish to purchase in an eligible rural area with no money down.
VA loans offer qualified veterans and service members zero-down mortgages.
WHEDA loans offer special 30-year fixed-rate loans with little down payment and an option to finance the down payment.
Home One® offers fixed-rate options with a limited down payment.
Get started
Contact one of our experienced mortgage lenders to set up an appointment today or get started online!
Buy your home checklist
Below is a list of information you will need to provide to your loan officer to help expedite your mortgage application. Please forward the following to your loan officer:
Two years most recent W-2s and/or 1099s
Two of the most recent paystubs
If self-employed, the past two years of tax returns, all schedules and K-1s
Two months (most recent) asset statements for any accounts not with Bank of Sun Prairie, such as checking, savings, money market, retirement and investment accounts
Additional information may be required based on your individual situation.
Loan Calculator
Home Affordability Calculator