Your local, longtime neighbor
Experience what it's like to bank with a partner that has helped Dane County area residents reach their financial goals for more than a century. Being locally owned, we are dedicated to the communities we serve.
While banking has evolved considerably since our founding in 1897, Bank of Sun Prairie's core values haven't wavered. When you choose us, you'll enjoy personal attention only a bank with local roots can offer.
We take pride in providing both personal banking services and business banking solutions designed to make every aspect of your banking relationship valuable. You'll find a wide array of traditional and technologically advanced products and services that offer value and flexibility.
We invite you to experience the Bank of Sun Prairie difference and learn what we mean by "The Right Balance." We'll make it easy for you to switch to your local community bank and start a banking relationship with people you know and trust.
Our customer promise
Our rich tradition of building successful relationships has instilled confidence in our local customers, business owners and agribusinesses for more than 100 years. At Bank of Sun Prairie, we promise to:
Provide prompt, professional and knowledgeable service
Recommend financial solutions designed to meet your needs and deliver the best possible value
Make all loan and deposit decisions locally only after taking the time to understand your unique situation
We have earned our reputation as one of the most highly respected banks in the communities we serve, where our customers appreciate "The Right Balance" of big-bank capabilities delivered by a local community bank from people you know and trust.
Our history
The Bank of Sun Prairie's legacy of customer service dates to 1897, when Thomas Hayden opened the first branch at 233 E. Main St. In 1903, the bank was chartered by the state with a capital stock balance of $25,000. Hayden served as the bank's president until 1911, when he was succeeded by Henry Schey.
While the stock market crash of 1929 seemed an unlikely time to expand, the Bank of Sun Prairie did just that, acquiring the Farmers & Merchants Bank. The Bank remained at this location on the corner of East Main and Columbus streets until 1955.
Following Henry, Ed Schey became the third bank president, serving from January to October of 1932. He was followed by George Mitchell, who ushered the Bank into an era of growth and expansion. The bank moved to its present location at 228 E. Main St. in November of 1955. Not 10 years had passed when Mitchell realized the bank would need to expand to accommodate its installment loan department; the addition was completed in 1963.
Two drive-up lanes were added in 1967, making banking more convenient for valued customers. In keeping with the "changing times" of the '60s and '70s, the bank undertook a major remodeling and construction project in 1972, expanding its lobby and adding more drive-up lanes. In this same year, Tom Tubbs became the fifth president of the Bank of Sun Prairie after having worked at the bank for 15 years.
Tubbs' election to the presidency directly coincided with a period of major growth within the Bank of Sun Prairie and within the Sun Prairie community. Assets of the bank more than quintupled in the 12-year period, growing from $9 million in 1965 to $44.2 million in 1977.
A December 1981 renovation added a second floor to the bank and further expanded the drive-up to accommodate new customers as Sun Prairie grew from a small community to a thriving suburb of Madison.
The continued growth of Sun Prairie led to the bank opening two new full-service locations in 1990: one at 550 Broadway Dr. and another at 119 Wilburn Rd. By 1994, the bank's lending departments had outgrown their current office space, necessitating yet another addition to the Main Street office. The bank added 3,400 square feet of space and purchased land nearby to provide parking for its ever-expanding staff.
In 1999, Bank of Sun Prairie opened its fourth office in the Village of Cottage Grove, a growing community in Northeastern Dane County.
After leading the expansion and continued growth of the bank for more than 30 years, in 2006 Tom Tubbs was named Chairman of the Board, and he served as a member of the Board of Directors until his passing in 2019. Alice Hensen was named president in 2006, making her the bank's sixth and only female bank president in Dane County.
In 2014 the bank did a major remodel of the Main Street location, giving the lobby area an updated and open look, adding offices for the relationship bankers and offering more privacy for customers. In October, five generations after its opening, Bank of Sun Prairie selected Jimmy Kauffman as its seventh president and CEO. Kauffman is also the first non-former employee to hold the post. After 48 years serving Bank of Sun Prairie, Alice Hensen retired on December 31, 2014.
Bank of Sun Prairie expanded to the west side of Sun Prairie, opening the Bank of Sun Prairie center located at 695 S. Grand Ave. in the fall of 2015.
Today, Bank of Sun Prairie remains an independent bank and full-service financial institution.
Meet the CEO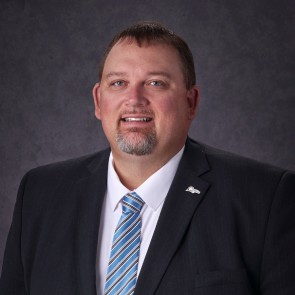 Philosophy
Our CEO's approach reflects that of a hands-on, dedicated professional. In fact, customers have grown accustomed to his presence, especially on the business banking front. "I enjoy going out to meet and learn about all of the businesses that have entrusted us as their partner," Kauffman says. "It helps us understand what we can do to improve their experience."
Kauffman believes in doing right by customers by employing motivated people and providing a great environment in which to grow. His customer service model boils down to empowering people with passion to enrich the lives of customers and clients by improving their own skillsets. This type of service model provides limitless potential to build long-lasting relationships.
Personal bio
Jimmy, his wife, Mary, and their five children have lived in Sun Prairie for more than a decade. Jimmy is very active in the community and currently serves on the following committees and boards: United Way of Dane County - Campaign Cabinet, City of Sun Prairie - Community Development Authority, Sun Prairie Chamber of Commerce - Workforce Housing, UFS Technology LLC – Board Member, Graduate School of Banking at the University of Wisconsin - Advisory Committee, and Wisconsin Bankers Association - Government Relations. In addition, he co-chaired the Sun Prairie disaster relief effort with the mayor of Sun Prairie. He has also formally served on the board for the Sun Prairie Historical Library and Museum as well as the Sun Prairie Business and Education Partnership, and he is a former board president of Community Coordinated Child Care (4-C).
Jimmy holds a bachelor's degree in business administration from Upper Iowa University. In addition, he is a graduate of the Graduate School of Banking and the Executive Leadership Program, both at the University of Wisconsin. He graduated with a major in accounting from Commonwealth Business College.
Jimmy received the Sun Prairie Rotary Service Above Self award in 2019 and was named the Sun Prairie Chamber of Commerce Community Business Leader of the year in 2018.